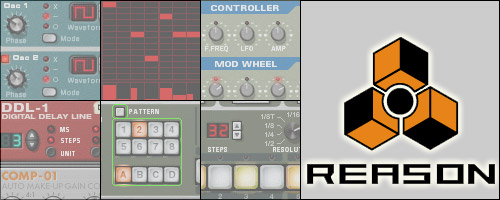 Hi :) So, I'm a big Reason enthusiast, and this is my reason page. You'll find links to mp3s and (some) reason song files that I have produced, as well as any other kinds of screenshots, technique descriptions, or what have you that I decide to include. Enjoy :)


12/17/05

12-17-05.


7/16/05


Several new ones to share in this update. This one is a little spacey... there is some deep sub-bass, so put on your good headphones :) Second is this one, which is frankly a bit abusive. I sorta like the brash synth lines, though... Finally, there is this which is sort of a 5 a.m. quiet-time groove.


6/25/05

sleepy dog. Also, the source.


1/19/05


Happy new year :) Here's a track I've been toolin' on a bit lately... here is another pass.


10/11/04

Played with the BV512 Vocoder for this one. Too bad Reason can't take live audio input as a source of modulation for the vocoder...


9/28/04


Two new tracks this time! First is this one which I'm pretty pleased with. Props to the m-audio Electro Mechanical refill; I really dig the sounds, and it's free! Second is this one, which is sort of split in half. First half is somewhat clumsy and will probably get axed or changed a lot... the second half is high energy and lots of fun :)


8/16/04

Here's a recent one for ya. It started as a doodle on the bus and turned into more of what sounds like video game music, which is okay by me :)


4/24/04


Finally, another one. This one was a bit tricky because it moves from a straight 8ths to swing, however reason's shuffle knob is not automatable. So, I used Wiretap to hijack myself while letting reason roll and manually moving the shuffle knob :)


11/29/03

This isn't done yet, but it's something :) Here's another one. Psychedellic regggae? I like the way the bass starts to sound like dub due to a little mute automation @ bar 32 when the lead comes in.


10/11/03


Did this on the train back from Portland. Starts out kinda gooey but becomes staccato and polyphonic in short order :)


8/17/03

Been a tad lax about updating the site - there are two new ones since the last update. First is 7-11-03, which is just sort of a rambling vibes jam over a semi funky bassline / drums. While making the track, I happened upon a really nice sounding synth that I had going through the scream distortion unit. It's all about using the "B" body preset and messing with the scale :) Had a hard time getting this one to flesh out, and initially kept waffling about whether to include the extremely harsh drum track that I wrote for it... in the end, I went for the mellow feel versus the 'mellow bass contrasting the extremely harsh percussion' feel :) Probably spent about 10 hours on this one.

The second new one is 8-14-03. This one I'm pretty happy with, though it is a bit long at just over 9 minutes. I sent this track to a friend who is currently adding guitar and re-working some bits... I'm interested to see how it'll turn out. Anyway, I definitely like the way the synth stuff came out on this one, especially in the last few minutes of the track. Heavy use of the scream 'body' here as well... (see screenshot). Spent maybe 5 hours making this track.




As of last month, it's been a year since I started saving the Reason tracks I'd been producing. There are still a bunch of tracks in the mp3 folder that I haven't done any writeups about; go troll for yourself to find them. Basically, anything that doesn't have "03" on the end is from 2002 (except 5-11 and 'those saints'). It's fun to listen to the differences between the older stuff and the newer stuff. The biggest change I can detect is that the actual sound quality I'm getting from the instruments seems better... from a compositional standpoint, I kinda like them all :)

Lastly, I spent a few hours at a good friend's place yesterday where we for the first time did a little bit of cooperative sound production, and there were definitely some very cool moments. I tend to think that there will be some worthwhile joint productions in the future.


5/24/03


Finally a diviation from 4/4. Trying to get better at keeping the levels as high as possible without clipping, also. Here's the track.


5/18/03

This one was started on an airplane with no midi keyboard, so I just kept with the theme of drawing all the notes by hand. I'd probably dig making video game music.


5/18/03


An as yet incomplete track... this is the third remastering, and it's still not right :)


3/18/03
Those Saints!
3/6/03


Finally did another track.... I know, been slackin :) QuakeIII can consume a vast amount of my disposable time :). Anyway, here's the link to today's track. This one does a fair amount of messing with rythmic feel... most of it's in the punchy voice that comes in early. Halftime, double time, in between... etc. All played by hand, with quantizing of course... spent about three hours on this one. Also, here's an alternate version without the aforementioned punchy track.


1/3/03

New tune today. This is another sort of trancey one... ever since learning how to use the matrix to drive the synths, I've been able to do little else :) Anyway, this one's fairly complex - 16 sequencer tracks alltogether. There's not a whole lot of motion, but it is pretty full sounding and the instruments are fairly fine-tuned. Here's the rack in case you want a peek :)


1/2/03


This page is brought online with links to the existing mp3s and reason files that I have created to date. Expect more in the way of descriptions and such for the existing songs, as well as updates here with successive 'releases' :)